Average home price drops to $1.254 million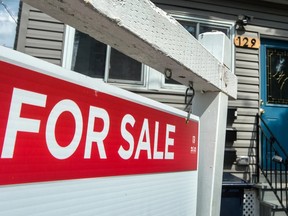 Content of the article
Home prices in Toronto fell 3% in April from the previous month as rising interest rates continued to weigh on the housing market.
Content of the article
The average home price of $1.254 million, though down from March, was up 15% from a year ago, the Toronto Regional Real Estate Board said Wednesday.
Sales also fell in April, falling 27% from the previous month and 41% from a year ago.
"Based on the trends seen in the housing market in April, it certainly appears the Bank of Canada is achieving its goal of slowing consumer spending while battling high inflation," TRREB Chairman Kevin Crigger said. , in a press release. "Going forward, it will be interesting to see the balance the Bank of Canada strikes between fighting inflation and slowing economic growth and related government revenues as we continue to recover and pay the bills. pandemic-related programs."
Content of the article
In its fight against high inflation for decades, the Bank of Canada has so far raised its key rate by 75 basis points to 1%. These rate increases rippled through the entire mortgage market, increasing the cost of borrowing.
However, the tight supply of homes is still expected to exert some upward pressure on prices compared to last year.
Content of the article
"Despite slower sales, market conditions remained tight enough to support higher selling prices compared to last year," TRREB chief market analyst Jason Mercer said in a statement. "However, in line with the TRREB forecast, there is evidence that buyers are responding to increased choice in the market, with average and benchmark prices declining month on month."
Supply is 'biggest problem affecting housing affordability' in Canada, says CMHC

Calgary home prices jump again in April, despite slowing sales

Urban exodus slows as Canadian shoppers return to office: BMO
Mercer added that it expects there should be enough competition among buyers to maintain strong price growth relative to 2021, although the pace of growth will begin to moderate in the coming months.
The Canada Mortgage and Housing Corporation has highlighted a supply problem in the first of a series of reports highlighting the country's lack of housing supply and its impact on affordability. The report noted that supply was not keeping up with population growth in Canada's largest cities, especially in places like Toronto.
• Email: [email protected] | Twitter: StephHughes95