How Much Home Insurance Do I Need?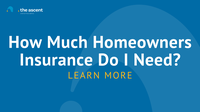 How Much Home Insurance Do I Need? This is a question that every owner of real estate should ask himself. Insurance protects you against catastrophic loss if something happens to your property or if someone is injured on your property. This guide explains the types of coverage you need and helps you decide how much coverage to purchase.
What is home insurance?
Home insurance protects against loss if something goes wrong in your home. It pays if your home or belongings are damaged or destroyed by an event covered by your insurance policy, such as a fire or burglary. If someone sues you after an injury at your home, home insurance covers these costs.
Lenders generally require home insurance as a condition of obtaining a mortgage. You may want to purchase more coverage to protect yourself against financial loss.
Home insurance policies generally cover:
Your residence: If your home is destroyed or damaged, your police pay to rebuild the structure.
Other structures: Insurance generally extends to sheds, barns or other structures attached to your property.
Personal property: This includes furniture and other items in your home. Your insurer pays to repair them or for their value if they are stolen or damaged.
Responsibility: If someone is injured on your property or injured by your pets, your policy pays damages if they make a claim against you.
Home insurance policies generally do not cover:
Flood damage: You need separate flood insurance for your home or property.
Sewer backup : You need additional coverage to pay for repairs and damage.
Jewelry: Your policy may have limited or no coverage. For example, your insurer can replace up to $ 1,500 in stolen or damaged jewelry from a covered event.
Antiques and collectibles: Antiques or valuable collections are generally excluded, or coverage is capped at a small amount.
How Much Home Insurance Do I Need?
Mortgage lenders set requirements, or "rules about the scope of coverage," for insurance. You must meet your lender's minimum insurance requirements.
Don't wait too long to find out about your lender's insurance requirements. Your lender may require proof of insurance at closing, as explained in our first-time home buyer's guide. In addition, you may need to make payments into an escrow account, which your lender uses to pay the premiums on your home insurance policy.
You can also purchase additional coverage. This protects you from out-of-pocket expenses and may be a wise choice. Here's how to decide on the insurance coverage you need:
Housing coverage: Your policy should be large enough to repair or rebuild your home if it is damaged or destroyed.
Personal Property Coverage: Most policies allow you to insure contents for up to 50% to 75% of the value of your home. Document the contents of your home in case you need to make a claim. And factor in the cost of replacing the property when deciding how much coverage to buy.
Liability coverage: This will cover legal costs and damages if you are sued for an injury on your property. Most policies offer a minimum coverage of $ 100,000. You may want to buy up to $ 300,000 to $ 500,000 or more if you have a lot of assets to protect.
Additional coverage for living expenses: This optional coverage covers living expenses of 10-20% of the value of your home if you are moved due to a loss. This could be temporary rent, boarding for pets, or restaurant meals.
Additional types of coverage: Flood insurance, fire insurance, sewer backup protection, or jewelry or art rider may be needed if you face additional risk.
If you are unsure of the cost of insurance on top of your mortgage payments, you can use a mortgage calculator.
Home insurance deductibles
Home insurance policies generally have deductibles. This is the amount you pay before your insurer starts covering losses. The higher your deductible, the lower your premiums, but the more you pay if a covered event occurs. Consider your risk tolerance and emergency savings when choosing a deductible.
Replacement cost versus actual cash surrender value
When purchasing coverage for your home, you may have a choice between the replacement cost and the actual cash value. Here is what it means.
Replacement cost: Your insurer pays the amount needed to rebuild your current home and purchase a property similar to the one you currently own. If you have a 10-year-old television that is destroyed by a covered risk, the insurer pays for a new television.
Actual cash value: Your insurer pays the market value of your property, less depreciation. Instead of financing a new TV, your insurer will reimburse you for the value of a 10-year TV if your TV is destroyed.
Most insurance policies cover the cost of replacing your home by default. But they have real cash value coverage for personal property by default. If you want replacement cost coverage for both, you may need to customize your home insurance policy. And you'll likely pay higher premiums for the extra protection.
How much does home insurance cost?
The average cost of home insurance is $ 2,305 per year according to research from The Ascent. However, the costs are determined by the amount of coverage, the location and the risk your property presents.
If the risk of loss is higher, perhaps because you have made repeated claims in the past or live in an area prone to certain types of risk, you pay higher premiums. If you live in a lower risk area and keep your coverage limits low, you pay less.
When it's time to buy coverage, check out our step-by-step guide: How to get home insurance.